Visit the Friends of Myles Standish State Forest Meetup.com group for full details and a complete listing of all our upcoming hikes, birding events and other activities.
A DCR forestry department- led tour of some of the 563 acres of red pine plantations slated for harvesting has been announced for November 21st at 3PM, starting at MSSF headquarters. DCR held a public meeting on October 3rd to discuss the DCR's proposed cutting of several hundred thousand diseased and dying red pines in the forest. (A PDF of the presentation is available ).This will make a dramatic change in the appearance of many parts of the forest. Unfortunately, there don't seem to be any treatments that will save the pines. Details of the DCR red pine logging proposal ( Red pine removal/ pine barren restoration) are available online. An article by Frank Mand discusses the proposal: Blight in Red Pines clears way for ecological restoration. The initial public comment period has ended.
---
Public meetings on new Volunteers in Parks policy and DCR Regulations were held on November 7th
Volunteers in Parks policy- A draft policy sets out the rules for volunteers and their organizations like ours who want to do work in the parks. The good news is that volunteers can get the State's liability protection if their project or activity is DCR approved and volunteers sign a State release form. Also, there may be some circumstances under which volunteers would be allowed to use power tools. The DCR officials announced that they currently plan to have this plan implemented by February 2014.
DCR park rules and regulations- The DCR is currently operating under two sets of rules and regulations that have carried over from the time when there was one parks department for Boston (the MDC) and another for the rest of Massachusetts (the DEM). The basic plan is to eliminate the two sets of old regulations and substitute one new set.
The public hearing took testimony from citizens about their concerns about the proposed changes.
Most of the testimony was from hunters and gun owners concerned that one of the new regulations would outlaw gun possession in many park areas. Priscilla Geigis, the head of the Parks Department, reassured gun owners that the DCR had no intent to interfere with gun owners.
A request to eliminate owned animal access to ponds with endangered species was also raised.
Another concern was raised that the new regulations no longer have a set list of DCR properties for Off-Road vehicle access. Instead, the new regulations just state that ORV access is not allowed, except for designated areas. The concern is that without a widely publicized list of rideable areas, ORV owners may venture back into the parks to test the new regulations.
The period for public comment remains open for the next several weeks. The documents are available online for your review. We encourage people to read these documents on their own and send in their comments to the State. We would appreciate getting a copy (friends@friendsmssf.com) so that we can all benefit.
Hunting Season Reminder to Wear Blaze Orange
This is a reminder that hunting season has hit full stride with quail and pheasant shooting started last October 19th and bow hunting for deer started October 21st. (Fall turkey season started 10/21 and has already ended on 11/2)
This short (5-minute) safety video called The Effectiveness of Blaze Orange, passed on by MassWildlife, provides tips about how wearing the right amount and kind of blaze orange can keep you safe in the field. It's useful for any outdoor user who is in the woods during hunting seasons.
Other than Sundays,when no hunting is allowed in Massachusetts, it's not easy to say just when it is safe to go out into the woods. In Myles Standish, two large areas are stocked with pheasant and quail for hunters in October and November. The Bentley Loop, one of our favorite hiking trails, goes through a Wildlife Management Areas for pheasants. The quail area is over near Cutter Field Road. Remember your blaze orange clothing in these areas until the pheasant and quail hunting season finishes at the end of November. Shotgun season for deer starts on December 2nd this year and runs through 12/14. It is considered the time to be most careful in the woods. Primitive firearms (black powder) season starts next on 12/16 and runs through 12/31. Most of the concentrated hunting seasons come in October to December but different animals are hunted at other times of the year. The Division of Fisheries and Wildlife provides a Quick Reference guide to Hunting Fishing and Trapping that shows information on when the hunting seasons run in different parts of the Commonwealth. They have put the "NO HUNTING ON SUNDAY" in big red letters in the hunting summary this year.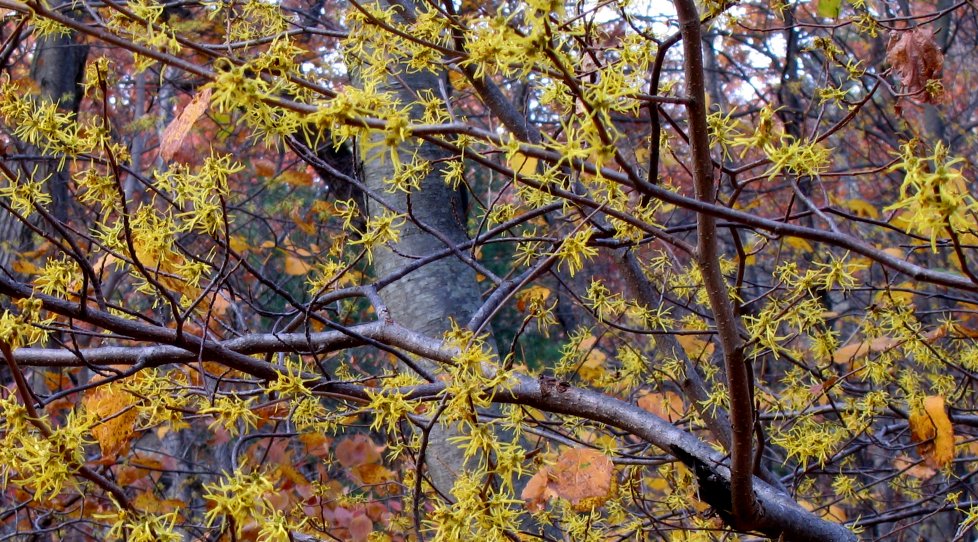 On the days when the hunters make you shy of going into the forest, check out the Witch Hazel, which Irina Kadis tells us is just coming into bloom in places like the Blue Hills Reservation, where hunting is not permitted.
---
---
The Fishing Derby for 2013 took place on Saturday, September 28th. Over 500 people joined us on a perfect day. Thanks should go to the DCR and MassWildlife, all of our generous sponsors and to all the volunteers who helped out.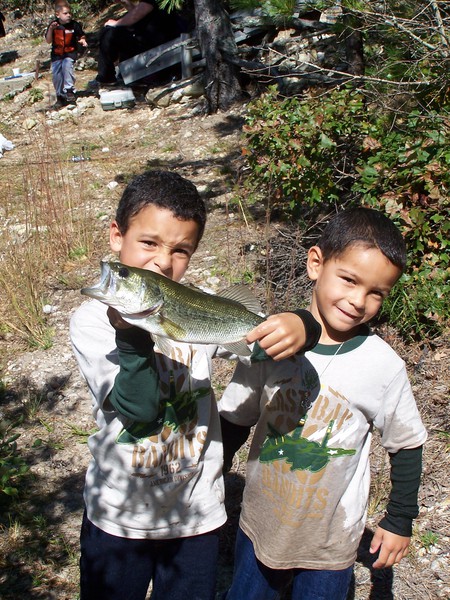 108 photos were posted on our Meetup site.
Last Update 11/13/2013
Friends Membership Page- Join Us!
Report Illegal Off Road Vehicle
Pine Barrens Community Initiative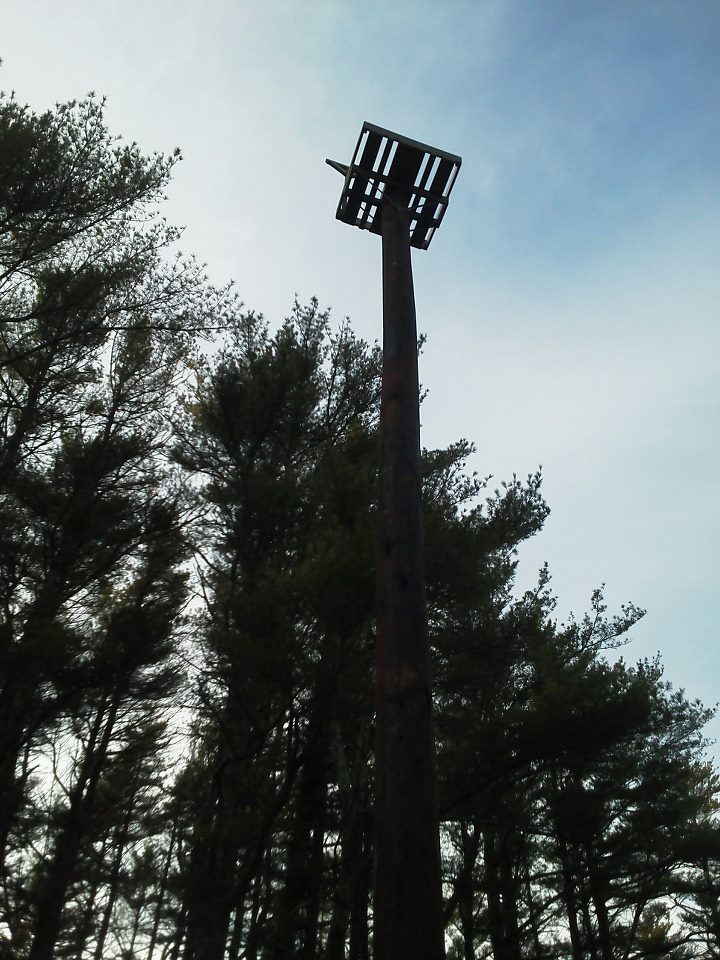 Four new osprey poles are in. Look up!
Melissa Guimont reported another great year for Native Bird Support. Thanks to our volunteers for all their reports!

T-Shirt sale-- Friends of Myles Standish State Forest green t-shirts now $5 off.



The Native Bird Support Group

Join Melissa in monitoring bird nesting boxes in MSSF!
Order a locally made, custom blue bird nesting box for your own yard and help support native birds.
The Native Bird Support Group held its first meeting in 2010 and began organizing a team to place and monitor bird nesting boxes in the MSSF. (View current updates.)The Native Bird Support Group is registered with the Cornell Lab of Ornithology Nestwatch Program, a great program using citizen scientists for nationwide bird monitoring.

If you would like to join join us on a nest visit, contact the native bird support group birds@friendsmssf.com
Rose and CJ check out an egg mass from a potential Vernal Pool.
Vernal Pool Program
Join the FMSSF vernal pool program and help identify, certify, and monitor vernal pools in MSSF. For more photos of Vernal Pool Monitoring, visit the Friends of MSSF on Meetup.com