MSSF Centennial
Myles Standish State Forest was purchased in 1916. (The Massachusetts State Forest Commission voted to acquire the property on December 7, 1915 and the purchase was finalized in February 1916. (Read about the creation of Myles Standish State Forest from a 1917 report from the Commissioners on Fish and Game. (PDF file)) The Friends will be celebrating this centennial of our favorite forest with a First Day hike, a major celebration on July 16th at Charge Pond (more details later) and other exciting events.
Plants of Myles Standish State Forest 2016 MSSF Centennial calendar now available
A lovely 2016 calendar displaying plants found in Myles Standish State Forest is being offered for only $12 by local botanist and founding FMSSF member Irina Kadis and her husband Alexey Zinovjev on their website, Salicicola.com. Since they had about 20,000 photos to choose from, we can't wait to see the rest of them.
First Day Hike
185 people joined our 4th annual First Day Hike this year and enjoyed a warming fire and cocoa at the amphitheater behind park headquarters. DCR's Daniel Byrnes will led a hike around the East Head Reservoir. The Friends sold the new Centennial commemorative t-shirts at the First Day Hike.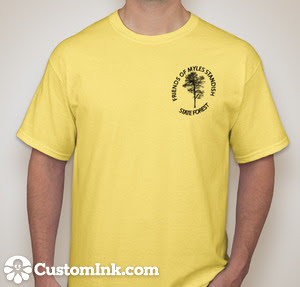 9th Annual Fishing Derby
The Friends' Take Me Fishin' event took place at Fearing Pond on September 27th. Approximately 350 participants joined the fun. Thanks to all our sponsors for providing great prizes to the winning entrants and to all our volunteers who helped the event run smoothly

It was a very fun event in partnership with the DCR and Mass Fish and Wildlife. Mass Wildlife stocked the pond with trout several days ahead of time for this event but trout remained difficult to catch. Mass Wildlife also supplied more than 100 fishing poles for anyone to use. Morrison's supplied boxes of worm. Generous prizes from Cabelas, Captain John's and other sponsors were awarded in four categories this year- bass, trout, sunfish and perch.
Photo Contest
Many fine entries were received for this year's photo contest. Winning entries were displayed at the Fishing Derby. Take another look at last year's winners. Start shooting those photos now for the 2016 contest!
Plants Walks with Irina
The fall plants walk with Arnold Arboretum botanist Irina Kadis took place on September 20th.
(For more pictures, visit our Meetup pages.) The summer plants walk with Irina was held on July 5th at Three Cornered Pond. Some truly unique plants were discovered along the pond shores of Myles Standish. (More photos on the Meetup photo gallery.) Longtime FMSSF member Irina also led a springtime plants walk on April 12th through the southernmost section of the forest. The broom crowberry was just starting to bloom.
Native Bird Support
Bluebird boxes went in on April 4th. The nests were watched all spring and summer by our volunteers and fledglings have all been sent home. Find out more about the 2015 results of our native bird support program.
Bike path repairs
Major repairs were made this summer to fix the cracks and pave over the unpaved sections on the bike path going up the west side of the park from park headquarters to the Rocky Pond parking lot.
2015 Annual Meeting and Dinner
Our annual dinner was held on May 14th at the Carver Sportsmen's Club. About 40 Friends joined us. We honored the service of long time director and birding guru Glenn d'Entremont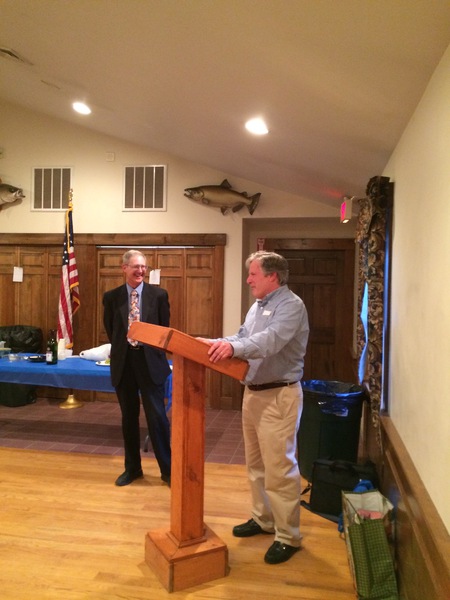 and named him "Volunteer of the Year". Salvatore Raciti was also named "Volunteer of the Year".
President Bill Vickstrom reported on the last year and announced that a new headquarters water fountain was being installed as the result of a project started by Rose Mellino. DCR South Region director Karl Pastore gave the Friends an update on the major improvements being made in Myles Standish State Forest. Four miles of road have been repaved in the last year. Hundreds of thousands of dollars have been spent on upgrading bathroom facilities at Charge and Fearing Pond campgrounds. Important repair work on the forest's bike trails is scheduled this year. (The sections that had been left as dirt crossing power and gas lines will be paved.)
The election of 6 directors to the Friends board for the term 2015-2017 occurred. Two founding directors, Thom Gifford and Jim Nelson, rejoined the Board during the year. Gail Nauen joined the Board and has offered to serve as Secretary. Rose Mellino, John Welsh and Richard Wall Jr. were also re-elected to the Board for another term.
Our guest speaker was Dr. Tom French from the Massachusetts Natual Heritage and Endangered Species Program. Dr. French reported on the natural resurgance of various predator populations in the Commonwealth as forests have recovered from the 80% logged state found in the late 19th century and the difficulties of protecting wildlife in the midst of a densely populated state like Massachusetts.
Pinefest
sponsored by the Southeastern Mass Pine Barrens Alliance (SEMPBA), came back on May 30th
It was even more successful than last year. Somewhere north of 500 people enjoyed a sparkling clear day in the pines.
Park Serve Day
Park Serve Day was held on April 25th. About 30 Friends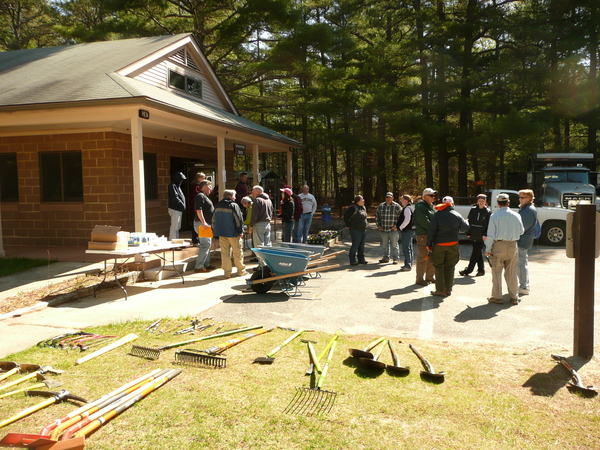 joined us for a couple of hours working on clearing trails, planting flowers, painting picnic tables and cleaning up around headquarters. Thanks to everyone who joined us!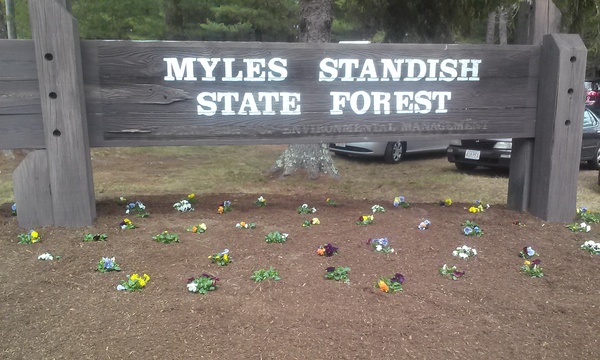 More photos are available on our Meetup site.
Vernal Pools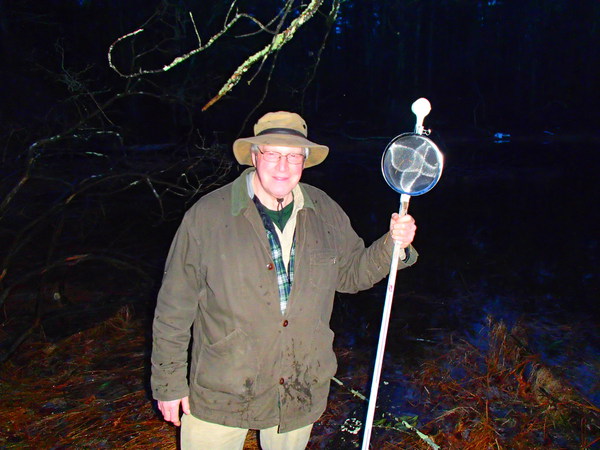 Biologist Charlie Pye was out mucking about in the vernal pools this spring. He was gathering information for certifying vernal pools. If you are interested in learning more about these very special places, contact Charlie.(cgpye@aol.com)
Membership
Please consider becoming a member of the Friends. Your contribution helps the Friends pay for our free family fishing derby, trail maintenance and the many other programs we run for the benefit of the Forest and its users.
Annual membership is only $10 for an individual. More details about membership are available on our Membership page You can mail your contribution or use the green PayPal button below to join online.
Newsletters
Our most recent newsletters:-

The Friends' February Board meeting will take place Wednesday February 3rd at 7PM. (We usually meet the first Wednesday of every month in the "barn" up the road from forest headquarters.) All members are invited.

Are you someone who regularly camps, bicycles, rides horses, skis or snowshoes or kayaks in the State Forest? Our group needs more input from all legitimate forest users. Currently, we have hikers, wildlife observers, hunters/fishers and cottage owners. We would love to have active campers, bicyclists and cross country skiers join us. You are welcome to attend our next Board meeting.(More info.)

Last Update 2/3/2016

Order a Friends Discover Nature T-shirt

Order a Friends embroidered logo hat

Take Me Fishin Highlights 2007-2013

Friends Membership Page- Join Us!

Report Illegal Off Road Vehicle

Pine Barrens Community Initiative



New Trails Map
An MSSF trails map published in April 2015 shows four marked hiking trails in the park and many unmarked side trails. Find out more.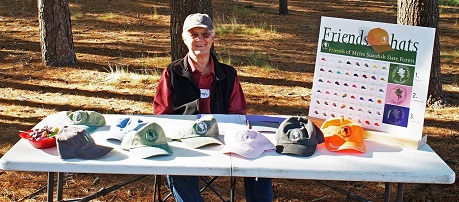 The Friends are selling caps with the Friends logo. You can purchase one of these hats at many Friends events. These hats are now also available for order online.
Visit the Friends of Myles Standish State Forest Meetup.com group for a listing of all our upcoming hikes, birding events and other activities.
Our Thursday morning hikes continue. Dog walkers have recently started heading out on Friday mornings. Check out the upcoming listings on Meetup. Join us!

According to this 2014 article from the Star Tribune (Minnesota) , "Massachusetts has nation's toughest ATV law." In a recent presentation to the DCR Stewardship Council by an Environmental Police Officer, Plymouth and Carver were shown to be the leading sources (#1 and #2) of calls to the Massachusetts Environmental Police with complaints about illegal riding. Your calls have been noticed and the many visits of EPO's to MSSF over the fall were credited to the calls. (Numbers for reporting OHV's in the park)