According to this 2014 article from the Star Tribune (Minnesota) , "Massachusetts has nation's toughest ATV law." As the article points out, local enforcement is increasing. Plymouth has hired environmental wardens to enforce the law. Massachusetts Environmental Police Officers are also regularly patrolling the State Forest to enforce the law. In a recent presentation to the DCR Stewardship Council by an Environmental Police Officer, Plymouth and Carver were shown to be the leading sources (#1 and #2) of calls to the Massachusetts Environmental Police. Your calls have been noticed and the hiring of enforcement wardens in Plymouth was partly credited to the calls. (Numbers for reporting OHV's in the park)
September's highlight was our eighth annual family friendly fishing derby at Fearing Pond.
A magnificent day brought hundreds of entrants trying to catch the just-stocked trout in Fearing Pond.
Visit our Meetup site photo album for 80 photos of the 2014 Fishing Derby.
We received 67 entries to this year's photo contest. The prize winners are here.
Other Friends' events included a group trip to the Berkshires' Mount Greylock. We held a trail work party on Saturday September 13th and another after Thanksgiving to brush back the growth along part of the Bentley Loop. A lot of fishing equipment was untangled on the 14th with the help of some girl scouts.
Our Thursday morning hikes and Sunday dog hikes (hikers are welcome with or without a dog) continue. Check out the upcoming listings on Meetup. We will have a New Year's Day hike along the newly re-blazed Friends' Trail. Join us!

Visit the Friends of Myles Standish State Forest Meetup.com group for a listing of all our upcoming hikes, birding events and other activities.
The Friends' January Board meeting will take place Wednesday January 7th at 7PM. (We usually meet the first Wednesday of every month in the "barn" up the road from forest headquarters.) Are you someone who regularly camps, bicycles, rides horses, skis or snowshoes or kayaks in the State Forest? Our group needs more input from all legitimate forest users. Currently, we have hikers, wildlife observers, hunters/fishers and cottage owners. You are welcome to attend our next Board meeting.(More info.)
December is deer hunting season. All trails are open. However, visitors are encouraged to make themselves visible by wearing blaze orange.
As always, there is NO HUNTING ON SUNDAYS !
December 1st- Deer shotgun season. Runs until 12/13
December 15th- Deer black powder season. Runs until 12/31
Wearing hunter blaze orange is a good idea during hunting seasons. We recommend this video which shows how effective hunter orange can be in making yourself visible-- The Effectiveness of Hunter Orange.

Hunting remains illegal on Sundays in Massachusetts. A bill passed the Massachusetts House in June to allow bow hunting on Sundays during deer hunting season but did not pass the State Senate.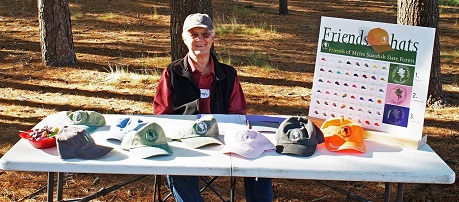 The Friends have been selling hats this fall.If you are interested in buying a Friends hat for $20, please send an email to "friends@friendsmssf.com". We are going to place another order soon.
Last Update 12/7/2014
Take Me Fishin Highlights 2007-2013
Friends Membership Page- Join Us!
Report Illegal Off Road Vehicle
Pine Barrens Community Initiative
Please join us. Your contibution helps the Friends pay for our free family fishing derby, trail maintenance and the many other programs we run for the benefit of the Forest and its users.
Annual membership is only $10 for an individual. More details about membership are available on our Membership page You can mail your contribution or use the green PayPal button below to join online.