The MSSF Centennial Celebration took place on July 16th.
Charge Pond Pavilion.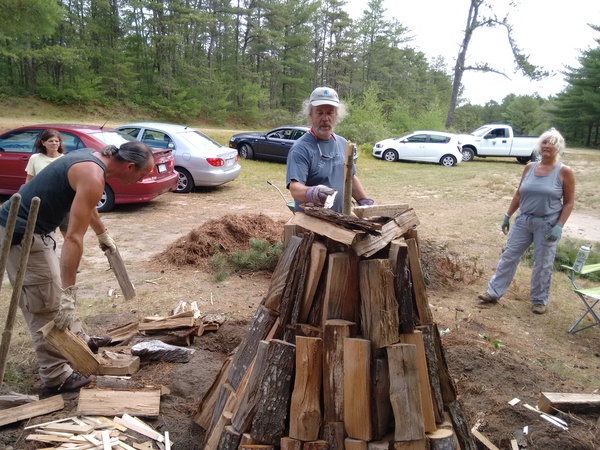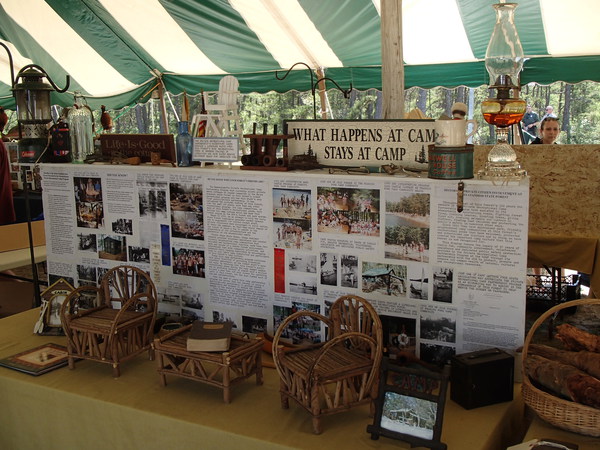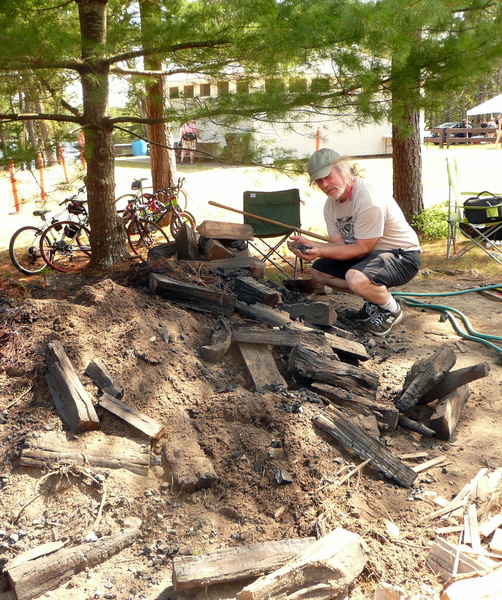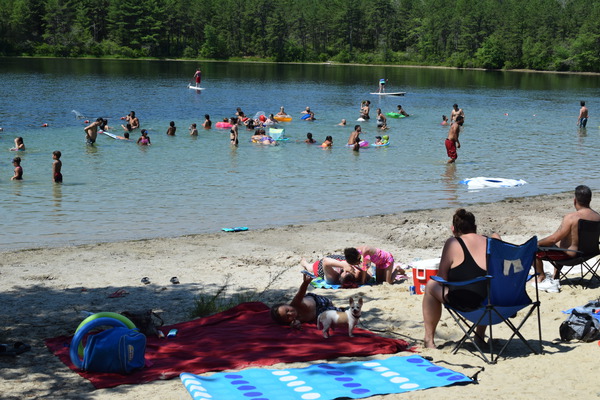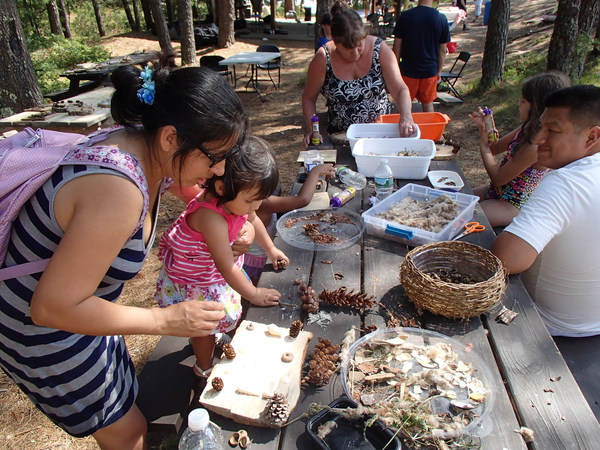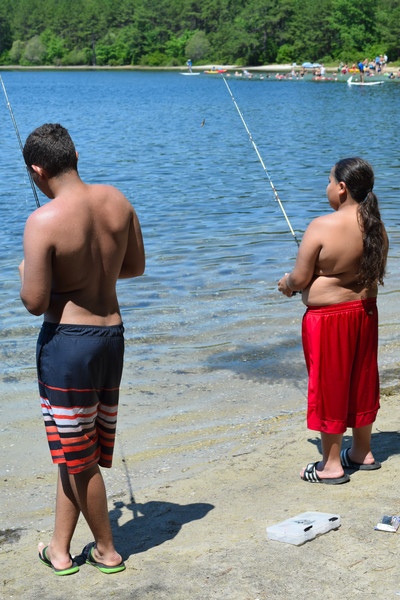 If you have more photos of the event, please send them to friends@friendsmssf.com. We'd love to share them! You can enter them in our
Photo Contest.
Forest Health - The Southern Pine Beetle- Meeting the next threat to MSSF. Ken Gooch, DCR Forestry Health Supervisor, spoke to the Friends. The Southern Pine Beetle has already devastated pitch pines in pine barrens in New Jersey and Long Island. Forestry experts brace for pine beetle. The beetle was detected in traps in 2015 in Myles Standish, though it hadn't yet killed any trees. A new set of traps has been set out this year and results will be posted here as soon as they are available. The DCR hopes that its current monitoring efforts will allow an effective response to be planned before the devastation proceeds too far.
John Galluzzo delivered a lecture "The Founding Fathers of Myles Standish State Forest: Who Were These Guys, Anyway?" on June 23rd. He explained how the efforts to develop a private game preserve on the land that is now Myles Standish reflected changing attitudes towards conservation in the early 20th century. Arms manufacturers and other wealthy individuals were responsible for setting up the East Head Game Farm as a way of supplying game to many areas that had seen game hunted close to extinction. They had a big hand in the passage of legislation establishing federal jurisdiction over migrating birds and the passage of hunting laws in many states controlling the previously unrestricted hunting which had been extirpating many game species from the planet.
John Galluzzo is the author of more than 35 books on the history and nature of New England, including two books on nature walking: Half an Hour a Day on Foot and Half an Hour a Day Across Massachusetts. He maintains a monthly column in South Shore Living magazine, is a founding board member of the Southeastern Massachusetts Pine Barrens Alliance and a coauthor of Mass Audubon's Breeding Bird Atlas 2.
The Mass Walking Tour performed on June 19th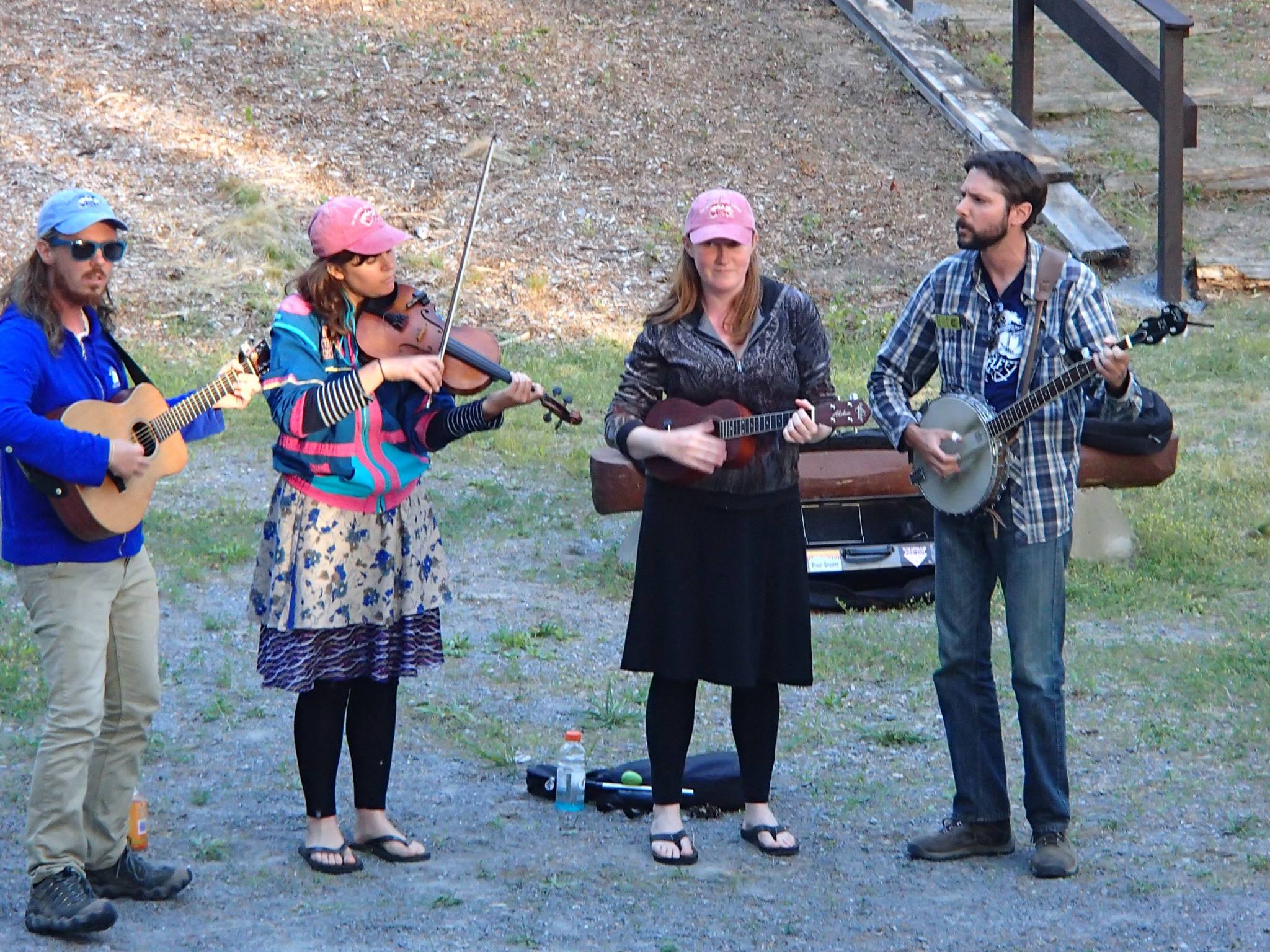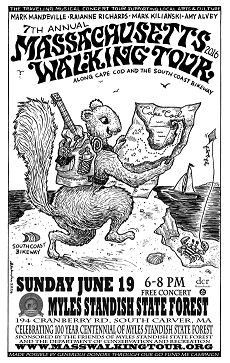 A group of hiking musicians, The Massachusetts Walking Tour hikes from town to town and gives a free bluegrass/folk concert at the end of their day's walk. They have been doing this for 7 years now. Here is a sample of their music They hiked into Myles Standish from the Wildlands Trust headquarters. After a day off enjoying camping at Barrett Pond, they hiked on to Wareham for their next performance.
Annual Meeting and Dinner held May 18th
The Friends annual meeting and dinner took place on May 18th at the Carver Sportsmen's Club. About 40 people joined us.

DCR Chief Fire Warden Dave Celino spoke to the group. He told about how Massachusetts had started the use of fire towers in the country with a tower in the Pinehills back in the 1880's. He reviewed the devestating fires of the 50's and 60's, which had burned 18 acres a minute (!) at their peaks. His department has just done a ten acre controlled burn in MSSF south of Three Cornered Pond Road at the intersection of the power lines and the East Line Road as part of plans for 1800 acres of burns in Myles Standish and another forest on the Vineyard (Manuel Correllus).

New DCR Commissioner Leo Roy also attended. He spoke about his plans to finish the consolidation of the DEM and the MDC into one agency (the DCR), his efforts to achieve efficiencies in energy usage and his recognition of the importance of volunteer activities and groups to the success of the DCR.

President Bill Vickstrom reviewed the many activities held this year to date (First Day Hike, the lecture series, astronomy nights, nature walks, birding walks in addtiion to the continuing hikes around the forest) and invited the group to the many activities remaining for this year, including our big Centennial Celebration on July 16th. He also commended the efforts being made by Thom Gifford to raise funds for improved trail signage in the park. Jim Nelson was recognized as the Volunteer of the Year.
Bylaws Change Approved
At the Annual meeting, the membership voted to amend the group's bylaws.

Proposal--to change second sentence of Section 2 of Article VI (Board of Directors) to read:

"Directors shall serve for a term of two (2) years, and an individual may not serve more than four (4) consecutive terms or eight (8) consecutive years."

Previously, the bylaws allowed directors to serve for a maximum of three terms and six years. This change allowed Bill Vickstrom to stay on as a director in this Centennial year. A full copy of our bylaws may be found on our website on the "About Us" page.

New director Dan Badger was elected to the Board. Glenn d'Entremont and Bob Bentley returned to the board after an absence. Bill Vickstrom, John Bescherer, Allen Wood, Donna McBrien and Charles Pye were elected for new terms.
Kettle ponds were the focus of our second Centennial lecture on April 25th
UConn Geology Professor Robert Thorson presented information on the unique character of the many kettle ponds dotting Myles Standish at the Carver Library. Professor Thorson explained why the beaches of kettle ponds are bleached white and why the waters are so clear. Those who missed the talk may want to look at his book, "Beyond Walden: The Hidden History of America's Kettle Lakes and Ponds".
A Centennial Hike
Malcolm Macgregor shared this video of a images from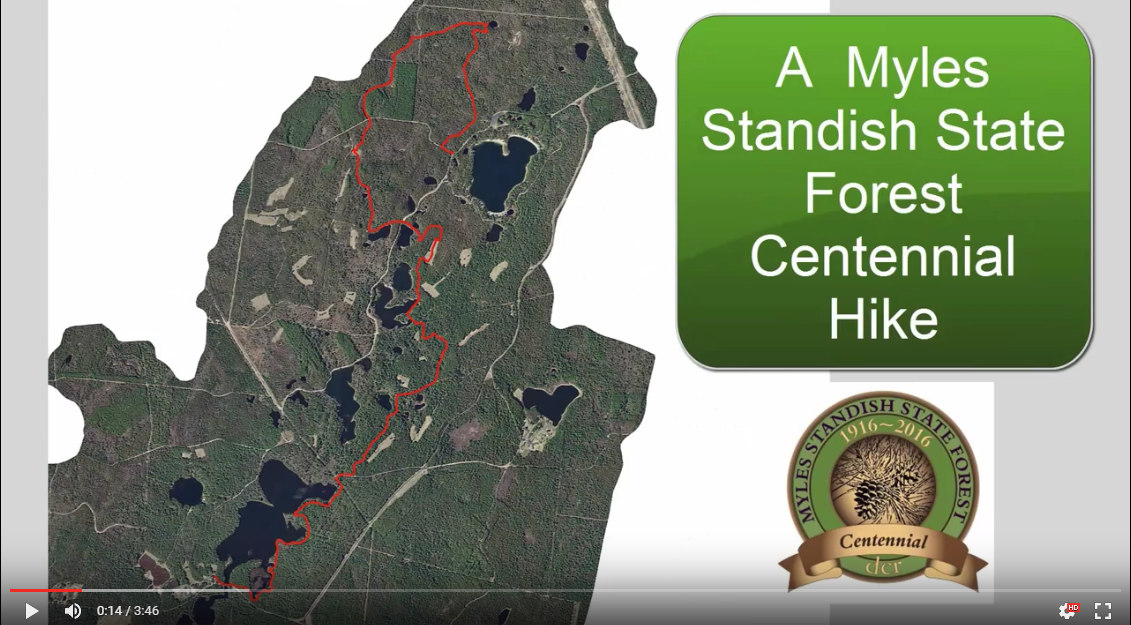 Wandering the Wankinko
, a five mile hike from Federal Pond Road (near College Pond) to park headquarters walking around many of the kettle ponds in the forest. In addition to pictures from the hike, some of the images taken by photo contest winners are included. We plan to offer this hike again later in the season. It is one of the dozens of different hikes we offer during the year to take advantage of this amazing forest. Some of our favorite trails can be seen on our
Favorite Trails
page. More info is available in Frank Werny's book "Hike Myles Standish State Forest!", which is
available from Amazon
and from the Friends.
Centennial Lecture Series started March 31st at Carver Library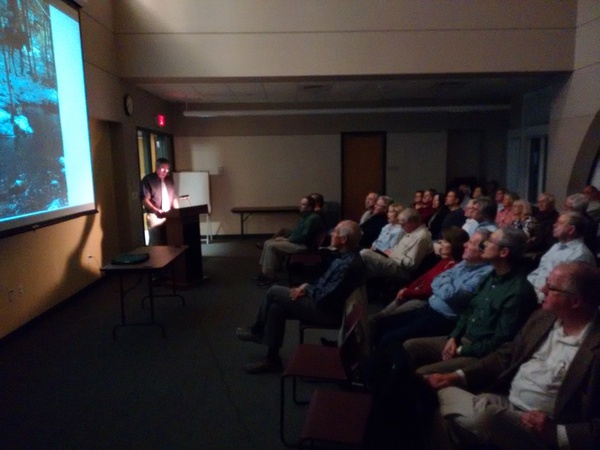 Andy Backman, Director of Regional Planning for the DCR, spoke to a group of 50. The title was "
What did the forests in Plymouth and Carver look like prior to the arrival of Myles Standish and what changes occurred in the three centuries between the arrival of the Pilgrims and the establishment of Myles Standish State Forest?"
Paleoecology research that Andy did as part of his graduate work included taking sediment cores from a number of lakes and ponds in New England and Long Island, and assessing the fossil pollen and charcoal records to determine historic and prehistoric changes in forest species composition and forest fire occurrence. Sediment cores were taken from two ponds in Myles Standish State Forest, Widgeon Pond and Charge Pond. The results of this research documented some of the changes in the composition of the forest in the area where Myles Standish is now located and the charcoal residues provided evidence of the frequent fires in the area. "Myles Standish- from the ice age to the present" . co-authored with UMass forestry professor Dr. William Patterson, presents some of this data.
MSSF Centennial
Myles Standish State Forest was purchased in 1916. It had been operated as a game farm for several years previously.
(Read about the "East Head Game Farm" )
The Massachusetts State Forest Commission voted to acquire the property on December 7, 1915 and the purchase was finalized in February 1916. (
Read about the creation of Myles Standish State Forest from a 1917 report from the Commissioners on Fish and Game.
(PDF file)) The Friends have begun celebrating this centennial of our favorite forest with a First Day hike and a Centennial lunch and hike on January 16th, the date officially designated as the Centennial of the purchase. A major celebration on July 16th at Charge Pond is being planned and other exciting events including a lecture series, multiple star-gazing nights and extra birding outings are also being planned.
Native Bird Support- Bluebird boxes went in early
Bluebird boxes went in on March 12th this year, three weeks earlier than last year. Last year's nests were watched all spring and summer by our volunteers and the fledglings were all sent home. Unfortunately, because of a mower accident, a nesting pair of bluebirds was disturbed and we had no bluebirds last year. Many other birds did make use of the boxes, however. Find out more about the 2015 results of our
native bird support program.
Join the nestwatching group this year. Training is being held on April 17th. (Sign up and get more info on
Bluebird Box monitor training.)
)
First Day Hike
185 people joined our 4th annual First Day Hike this year and enjoyed a warming fire and cocoa at the park amphitheater.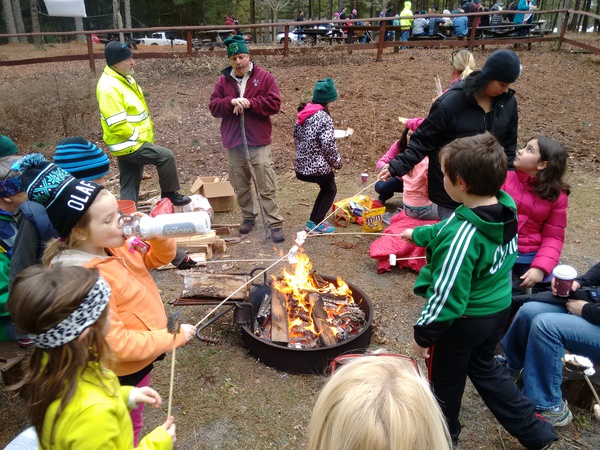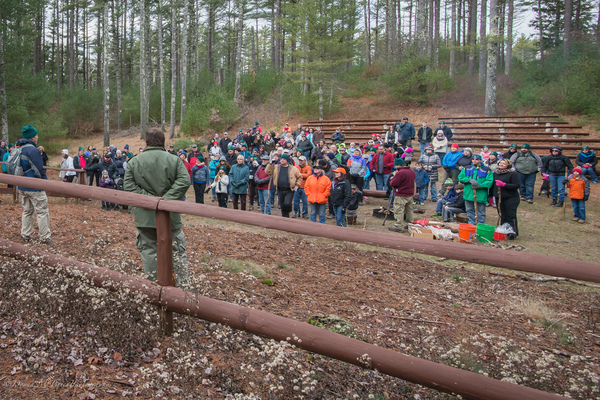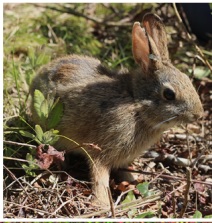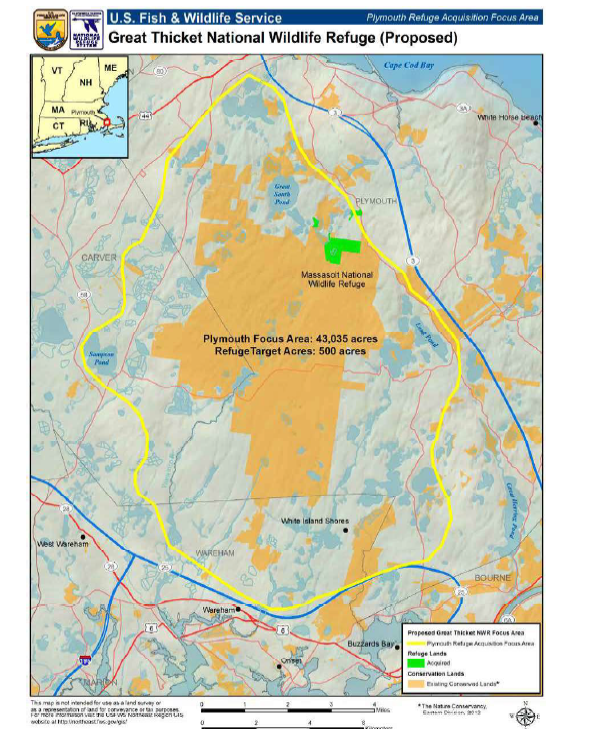 Does the New England Cottontail need a Great Thicket?
The US Fish and Wildlife Service has drafted a proposal (
Great Thicket proposal
)to purchase 15,000 acres of land in the six New England States to create 10 areas collectively known as the Great Thicket National Wildlife Preserve. The proposal for the Plymouth area is not specified but it appears that the plan would include the purchase of 300+ acres in the area of Myles Standish that would be in addition to 185 acres dedicated to the preservation of the Red-Bellied Cooter in the
Massasoit National Wildlife Refuge (which borders the northeast entrance of Myles Standish)
. Public comments are invited before April 4th, 2016.(Extended from original March 6th deadline.) You can send in your comments directly or let us know your thoughts. (Our email is friends@friendsmssf.com) >
Harold Parker Centennial celebrated April 16th
Congratulations to the Friends of Harold Parker State Forest in Andover which drew a big crowd for its Centennial Celebration on April 16th.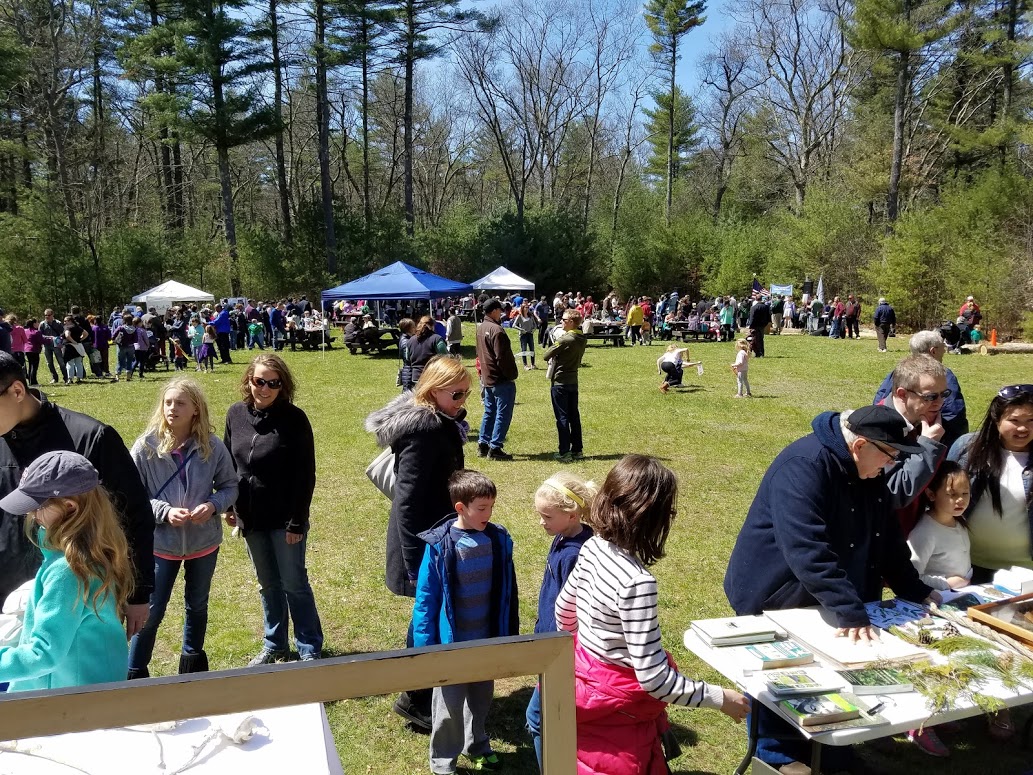 The big announcement was made by the DCR Commissioner that the HP swimming beach will be opened and guarded for the first time in years.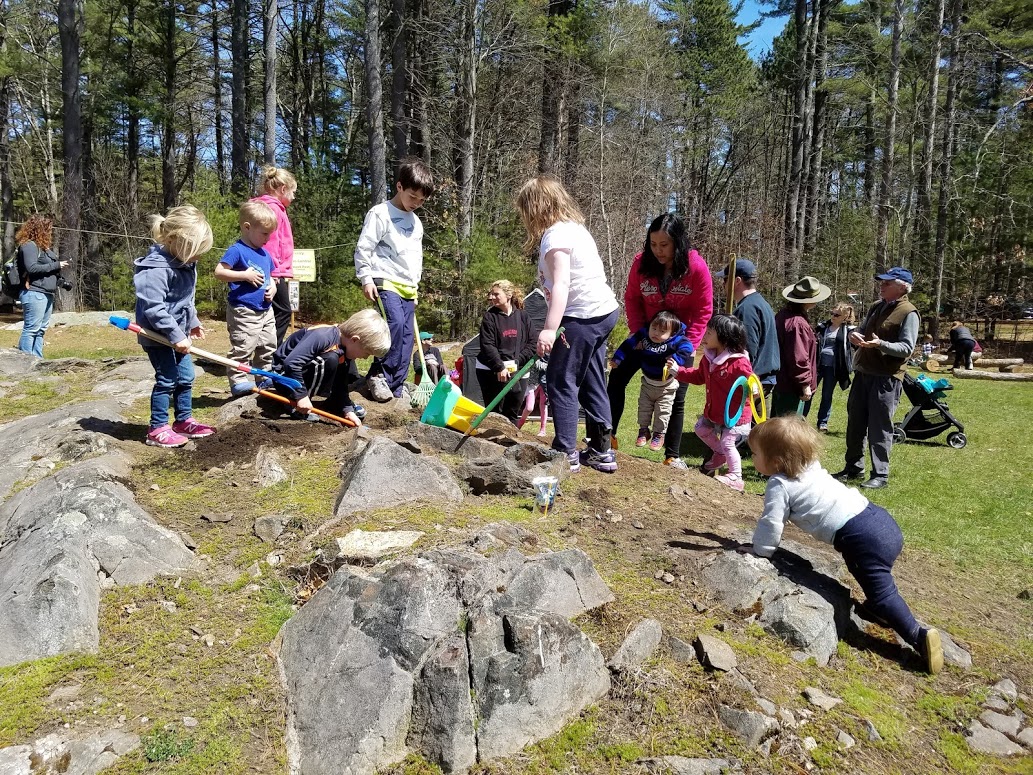 New Myles Standish State Forest map available at headquarters.
A beautiful new map of the forest has been published and is available for free at headquarters. Here is a scan of the map.
Download a printable PDF copy of the Myles Standish map.

Check out some of our favorite trails!
2016 Centennial Lecture Series
Next Centennial Lecture August 24th
Upcoming Lectures
Wednesday, August 24-- A Tale of Two Roosevelts
Plymouth Public Library
Presented by Dan Byrnes, DCR's Visitor Services Supervisor.
How Theodore and Franklin contributed directly and indirectly to the preservation of MSSF.

Wednesday, September 21-- "From the Forest Archives"
The speaker is Sean Fisher, DCR Archivist.

Wednesday, October 19-- "Can you Dig It?"
Presented by Ellen Berkland, DCR Archeologist

Membership
Please consider becoming a member of the Friends. Your contribution helps the Friends pay for our free family fishing derby, trail maintenance and the many other programs we run for the benefit of the Forest and its users.
Annual membership is only $10 for an individual. More details about membership are available on our Membership page You can mail your contribution or use the PayPal Donate button below to join online.
Newsletters
Our most recent newsletters:-

The Friends' August Board meeting will take place Wednesday August 3rd at 7PM. (We usually meet the first Wednesday of every month in the "barn" up the road from forest headquarters.) All members are invited.

Are you someone who regularly camps, bicycles, rides horses, skis or snowshoes or kayaks in the State Forest? Our group needs more input from all legitimate forest users. Currently, we have hikers, wildlife observers, hunters/fishers and cottage owners. We would love to have active campers, bicyclists and cross country skiers join us. You are welcome to attend our next Board meeting.(More info.)

Last Update 7/30/2016

Order a Friends embroidered logo hat

Take Me Fishin Highlights 2007-2013

Friends Membership Page- Join Us!

Report Illegal Off Road Vehicle

Pine Barrens Community Initiative



Friends Centennial T-shirts
The Friends are selling Centennial commemorative t-shirts.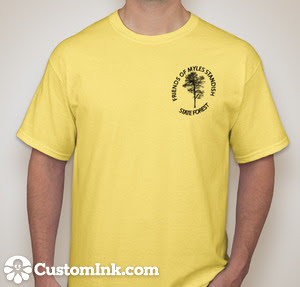 These shirts are now available for ordering online-- at $20 plus $3 shipping. (They will also be available for sale at some of the larger Friends events.)
Friends Hats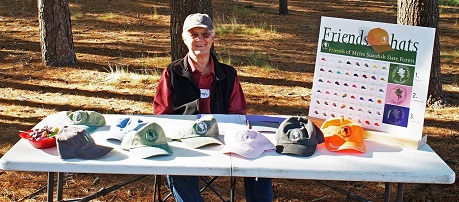 The Friends are selling caps with the Friends logo. You can purchase one of these hats at many Friends events. These hats are now also available for order online.
Visit the Friends of Myles Standish State Forest Meetup.com group for a listing of all our upcoming hikes, birding events and other activities.
Our weekday morning hikes continue. They have been held on Thursday mornings recently. The Sunday walks with dogs have started up again recently. (You don't have to have a dog.) Check out the upcoming listings on Meetup. Join us!

2016 Photo Contest
We are hoping for the best crop of entries ever this year-- Start sending in your entries now. 2016 Entry form. In honor of the Centennial, many fine entries from the last three years photo contests were displayed for the month of March in Plymouth and the month of April at the Carver Public Library.

Links to pages displaying the last 3 years of photo contest winners:

According to this 2014 article from the Star Tribune (Minnesota) , "Massachusetts has nation's toughest ATV law." In a recent presentation to the DCR Stewardship Council by an Environmental Police Officer, Plymouth and Carver were shown to be the leading sources (#1 and #2) of calls to the Massachusetts Environmental Police with complaints about illegal riding. Your calls have been noticed and the many visits of EPO's to MSSF over the fall were credited to the calls. (Numbers for reporting OHV's in the park)

It's tick season! (It's always tick season.) Find out more about ticks and what you can do to protect yourself and your pets at the University of Rhode Island's Tick Encounter Center You can:
Learn how to make your clothes tick repellent.
How to remove ticks.
How to treat your yard for ticks.
Get your ticks tested.
Identify ticks.