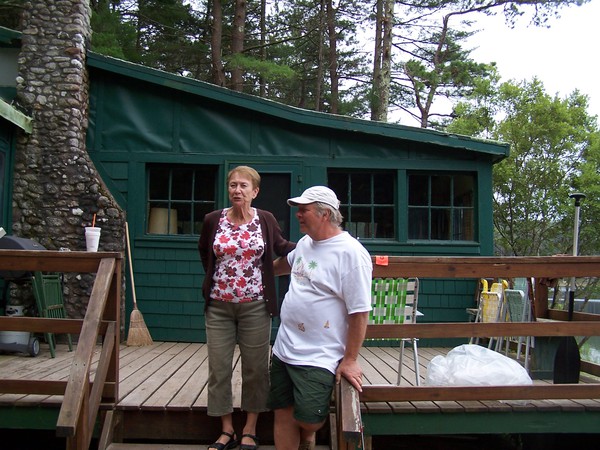 Visitors to some of the popular ponds in MSSF always notice the private cottages sprinkled around these ponds. There are 142 family camps or cottages located around five of the forest's ponds-College, Fearing, Widgeon, Curlew, and Rocky. They exist because of a program which the state started almost a century ago, in 1919, to foster a partnership between forest management and private citizens. In return for providing such services as building roads, fighting fires, and reforesting, private citizens were given the right to lease a waterfront lot on which they could build a permanent vacation structure.
From the beginning of the program, camp owners have routinely worked to preserve the forest's natural beauty and to ensure the safety of its users. Cleaning up the pond area and roadways, extinguishing unattended campfires, aiding in search and rescue efforts, serving as advisors for directions and safety-the cottage owners generally provide "eyes and ears" for the DCR, including notifying headquarters when necessary about problems and concerns. Cottage owners believe that their program continues to serve as an excellent example, now a century-old example, of the kind of public-private partnership that the DCR so strongly advocates.
Over their long history, the camps themselves have become a topic of interest to MSSF visitors. Many returning campers request campsites on ponds where these cottages are located because of the ambience and support that the camps program provides. Several generations of MSSF visitors can recall the welcome and assistance they received from the cottage communities within the forest. The singular charm of the program was recently recognized by Warner Brothers motion pictures, who filmed segments of their new production "The Judge" at a cottage in MSSF. (It's due out in October 2014 according to IMDB.)
The cottage owners consider their program to be one of the many legitimate user groups of MSSF. Cottage owners abide by the terms of a yearly permit, ranging in price from $1620 to $3800, that sets strict limitations on a wide range of issues such as length of occupancy, water testing, and maintenance requirements. Cottage owners regret that the DCR currently prohibits the sale of cottages to the public. There are several cottages available for purchase, and cottage owners would indeed love to see the current cottage community expand.
The cottage community at MSSF actively supports all of the forest's legitimate user groups. Cottage owners look forward to a continued positive relationship with the Friends of MSSF, working together to maintain and preserve the beautiful area that is MSSF.